The Day It Rained Hearts
By Felicia Bond,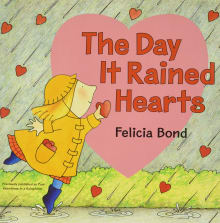 Recommended by Brandi Dougherty
From Brandi's list on spreading love on Valentine's Day.
This book has so much quiet, creative sweetness in it, and I just love the theme of using what you find to make something special. Cornelia Augusta discovers that it's raining hearts one day, so she gathers them up. As she examines each heart, she sees how unique they are—and she decides to make Valentines with them to send to her animal friends. This book is also a perfect way to jump-start craft time for making Valentine's Day cards. 
---