Sunrise Dance
By Serena Gingold Allen, Teagan White (illustrator),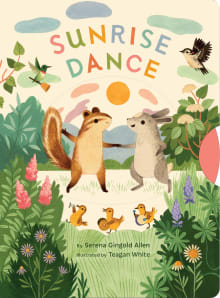 Recommended by Brooke Hartman
From Brooke's list on quick rhyming picture books with animals.
A companion book to Moonlight Prance, this interactive lift-the-flap book will entertain young readers as they read along during a sunrise dance in a meadow, and all the animals that come and join the fun. Kids will love making the animals dance along by moving the flaps, plus it's short enough for when you need that super quick read before a late bedtime.

---