Are You a Cheeseburger?
By Monica Arnaldo,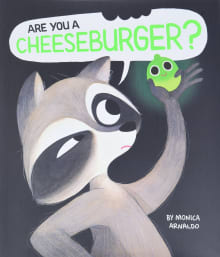 Recommended by Judy Lea
From Judy's list on laugh out loud children's books about pets.
A heartwarming book with a hilarious premise. Grub, a raccoon, meets Seed (a seed) in the same garbage can one night. Grub, who's been dreaming of finding one, asks Seed, "Are you a cheeseburger?" Seed is unsure and asks what a cheeseburger is. "Something very good and very special," says Grub. Unsure, Seed replies, "We will just have to wait and see." While they wait, Grub describes the 3 best cheeseburgers ever and Seed describes 3 wonderful worms. When Seed eventually sprouts, they celebrate: Grub plays banjo and Seed secretly wonders what will happen if she isn't actually a cheeseburger. 
The illustrations of this book are simple and magical. Like me, you may find the ending to be "something very good and very special" too. 
---