Mount Analogue
By René Daumal,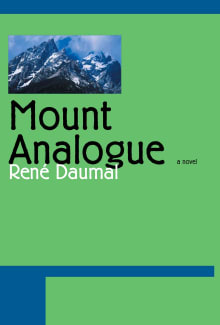 Recommended by Jean Muenchrath
From Jean's list on adventure, healing, and growth.
This book is one of my all time favorite reads. Mount Analogue is a short poetic novel. Daumal's rich descriptions and symbolism engaged my imagination and made me think deeply about the story's meaning. The author takes readers on a journey to a mystical place with an unusual set of characters and strange circumstances. The story revolves around an adventurous sailing and climbing expedition to a mystical mountain hidden from the world's inhabitants which is believed to link the earth to a higher sphere of reality. It's full of intrigue and packed with pithy philosophical statements worth pondering. Daumal's words and descriptions are so thought-provoking, that I used a quote from this book as the opening to my memoir, If I Live Until Morning.

---