The Three Stigmata of Palmer Eldritch
By Philip K. Dick,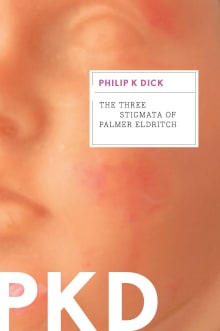 Book description
In the overcrowded world and cramped space colonies of the late twenty-first century, tedium can be endured through the use of the drug Can-D, which enables the user to inhabit a shared illusory world.

But when industrialist Palmer Eldritch returns from an interstellar trip, he brings with him a new…
Shepherd is reader supported. We may earn an affiliate commission when you buy through links on our website. (learn more)
Why read it?
3 authors picked The Three Stigmata of Palmer Eldritch as one of their favorite books. Why do they recommend it?
A.R. Davis
Like many of you I have enjoyed the movie and tv versions of some of Dick's stories such as Blade Runner, The Man in the High Castle, and Total Recall. I have also read his thousand-page plus Exegesis, a rambling and chaotic attempt to make sense of his life. He was a deeply disturbed and troubled genius. This book is one of the best examples of that genius. The writing is clear, the ideas are deep. The religious symbolism and concepts are everywhere as Dick takes the reader from competing drug dealers through layer upon layer of hallucinations or…
Mike Russell
PKD's stories ask 'What is real and what is not?' I think this is one of the most important questions to ask. His books attempt to reveal the truth by penetrating social conditioning and even perception itself, never as a purely intellectual exercise but as an expression of a profound human need and always with a great deal of fun. Discovering his books made me realise I was not alone in asking such questions and that I was not alone in seeing surrealism, humour, and big questions as non-contradictory.
Fred Nadis
Gorging on Philip K. Dick novels in the 1970s made me a full-blown science fiction fan. Written in 1964, this is likely his best. It is dazzling in its twists and turns, philosophical, comic, and at times, downright creepy. The earth has become nearly uninhabitable—with temperatures reaching 180 degrees on a typical day—and the UN is forcing people to colonize Mars, Venus, and the moons of Earth, Jupiter, and Saturn. The colonists, miserable outcasts, get their kicks while gathered around a Perky Pat layout, complete with small dolls and accessories. They ingest the alien lichen Can-D which "translates" them into…