Permutation City
By Greg Egan,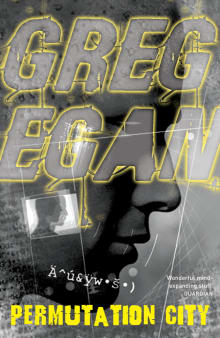 Recommended by Casey Dorman
From Casey's list on artificial intelligence science fiction.
A different version of the AI problem is the one discussed by a multitude of scientific and philosophical authors: what if the world in which we live, including our own consciousness, is a computer simulation? Permutation City, by Greg Egan, is one version of this dilemma. In this novel, those wealthy enough to afford it may upload their consciousness into a virtual world, one which they have a part in creating, and one which aims to be self-sustaining after they die.
The plot revolves around a researcher who has invented a virtual self-generating chemical germ-seed that can evolve and populate such a world. However, eventually, the germ-seed creates its own world and rejects the presence of the uploaded human consciousness in it, who are then faced with having to decide whether to leave and seek another virtual universe that the mathematics predicts exists. This novel challenged my intelligence at…
---