Ants
By Eleanor Spicer Rice, Eduard Florin Niga (photographer),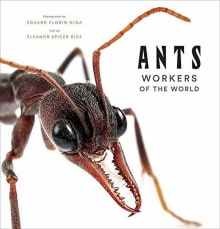 Recommended by Susanne Foitzik
From Susanne's list on the evolution of insect and human societies.
I'm an ant researcher, so perhaps it's not surprising that I'm recommending an ant book. But this book is less about the short essays, which do a great job of describing the biology of these social animals, and more about the photos. Most people overlook ants because they are so tiny, but when you enlarge them, as in this book, they show their real beauty. When I received my copy, I was amazed and I have seen many ants up close. But the sheer variety of morphological structures, faces, and yes, even colors. Not all ants are black or red, there are even ants that shimmer in all the colors of the rainbow.
We notice mostly ant workers, but in this book also the males are represented, and they often look out-worldly, so not at all like we imagine ants. A book that shows the aesthetics of these social animals…
---