An Egg Is Quiet
By Dianna Hutts Aston, Sylvia Long (illustrator),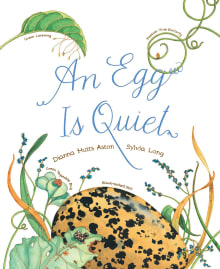 Recommended by Jennifer Ward
From Jennifer's list on for budding young birders.
It's amazing to think about a bird's egg, so fragile, often defying gravity from great heights in a nest, as the life force necessary for a bird's survival. Stopping to note the little and magnificent things in the natural world truly inspires a sense of curiosity and wonder, and that is what the picture book, An Egg is Quiet, brings to readers.  There's no better way to get to know a bird's egg  - really know the genius of nature – as shared by Dianna Aston's poetic words and Sylvia Long's detailed and stunning illustrations.
---