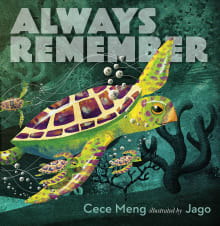 Always Remember
By Cece Meng, Jago
Why this book?
Some picture books about death spend the majority of their pages leading up to the death of a character, but in this colorfully illustrated and powerfully written story, Old Turtle dies on the first page. The remainder of the book is spent reflecting on all the ways Old Turtle impacted the ocean creatures around him: he helped a whale find her pod, he saved a starfish, and he rescued a manatee tangled in fishing net. 
Throughout the story, the reader is reminded that turtle "made his world a better place" and that each of these animals impacted by turtle will…
From the list:
The best picture books about death
When you buy a book we may earn a small commission.