The Rough Patch
By Brian Lies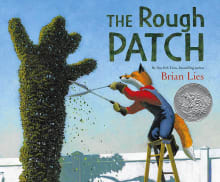 Why this book?
Filled with beautiful illustrations, this is the story of Evan and his pet dog. Evan and his dog do everything together and especially love gardening. One day, though, Evan's dog dies, and, as Brian Lies writes, "nothing was the same." This powerful book allows readers to understand that grieving can include times when you're sad, lonely, or angry. Evan's garden becomes a literal representation of his feelings until the day he's ready to grow pumpkins again. And once he opens his heart to gardening, he might be ready to open his heart to a new puppy.
This book helps readers grieving the loss of a pet or person to understand that healing takes time but is possible.
---
When you buy a book we may earn a small commission.