The Legend of Spookley the Square Pumpkin
By Joe Troiano, Susan Banta (illustrator),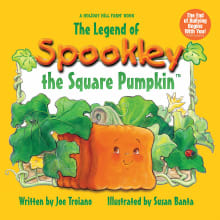 Recommended by Hillary Daecher
From Hillary's list on rhyming picture books.
The Legend of Spookley the Square Pumpkin is a fun Halloween read, but more importantly a wonderful story that shows the importance of acceptance. Spookley is unlike any other pumpkin in the patch because he is square instead of round. At first, the other pumpkins tease Spookley and are unkind to him because he is different. After a storm blows in and Spookley saves the day, the other pumpkins realize it doesn't matter what Spookley looks like, what matters is the kind of pumpkin he is and how he showed kindness to others.

---