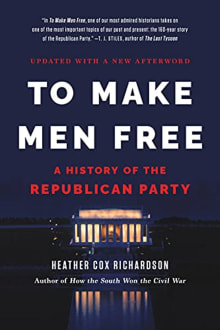 To Make Men Free: A History of the Republican Party
By Heather Cox Richardson
Why this book?
The political parties can be a bit confusing as the names Republican and Democratic have been around for centuries, but hardly resemble the original parties at their formation. To Make Men Free is the best overview of the Grand Old Party, its many evolutions, and its important role in American history. It is also my favorite of the many books written by famed historian Heather Cox Richardson. To Make Men Free would be a great gift for subscribers to Richardson's newsletter, Letters from an American, or dads who are interested in politics.
From the list:
The best history books for Father's Day
When you buy a book we may earn a small commission.