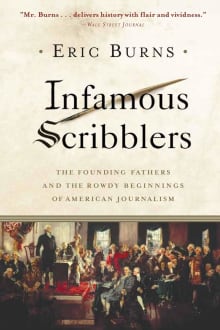 Infamous Scribblers: The Founding Fathers and the Rowdy Beginnings of American Journalism
By Ric Burns
Why this book?
Burns brilliantly tells the story of those first potent American journalists, the pamphleteers, who brought to their craft lively, probing, acerbic, and often angry commentary and reporting. Some ripped into George Washington and the Federalists, thus establishing a tradition of journalism that extends to our own time. Others went after Jefferson and the fledgling Democratic-Republicans. And one, James Callender, broke the story of the now-famous Jefferson dalliance with his slave Sally Hemmings. 

From the list:
The best books on the triumphs and struggles of American journalism
When you buy a book we may earn a small commission.