The Lonesome Era
By Jon Allen,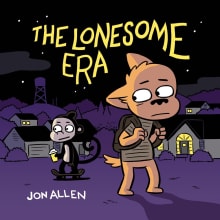 Recommended by Nick Abadzis
From Nick's list on the best graphic novels for an emotional sensory reading experience.
Jon Allen's coming out and growing up story in his ongoing Ohio Is For Sale series, The Lonesome Era is, so far, his most complex and affecting work, but that's not saying much for a cartoonist who expands his abilities and repertoire with each new book. The Lonesome Era is a rites-of-passage tale that showcases Allen's customarily bleak outlook and dry wit, and it is, by turns, hilarious and poignant. I've called his work "Kafkaesque situation comedies" in the past, but that description belies the mordant emotional and observational sophistication on show here. He is simply one of the best young visual storytellers around.

---