The Unfeathered Bird
By Katerina van Grouw,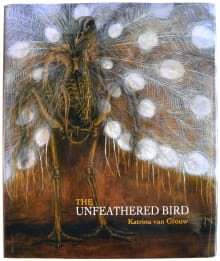 Recommended by Dougal Dixon
From Dougal's list on popular depiction of evolution.
So you want to paint dinosaurs? An artist depicting a modern animal works from life, or works from photographs. Neither option is open to the dinosaur artist. But now that we know that dinosaurs are evolved from birds we have modern examples that can give us a start – at least we can see the layout of muscles and how they bulk out the body around the skeleton. This book is a wonderful atlas of bird parts and can provide a perfect guide to how bones are articulated and how the muscles are built up. It is the nearest that a dinosaur artist will get to a direct visual reference! And it is so beautifully done that it works as a coffee table book – something to be just looked at and admired.

---