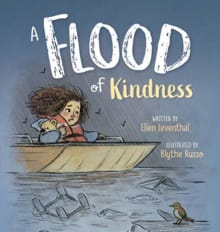 A Flood of Kindness
By Ellen Leventhal, Blythe Russo
Why this book?
I appreciate the gentle way Ellen Leventhal empowers children in this picture book—showing even the youngest child can do small things to help others. Charlotte, the main character, her parents, and her toy bear arrive at the shelter after evacuating their home because of flooding. Charlotte watches people at the shelter and in the community share acts of kindness with the flood victims. Even though she is sad and upset, she follows their example. When Charlotte sees a younger child crying because his teddy was lost in the flood, she gives her stuffie to the little boy. It reminds me…
From the list:
The best hope-filled children's books
When you buy a book we may earn a small commission.