There's a Pig Up My Nose!
By John Dougherty, Laura Hughes (illustrator),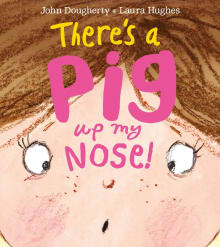 Recommended by Julie Fulton
From Julie's list on the craziest picture books for children.
One morning Natalie wakes to find her nose goes oink whenever she speaks. Her doctor says she isn't ill, a pig has simply trotted up it in the night. A riotous story with a novel idea played to the full. The matter-of-fact way Natalie's parents handle the news contrasts perfectly with the chaos of Natalie's classmates attempting to extract said pig. Its constant oinking ruins their game of hide and seek and completely puts them off their ham rolls. A pot of pepper finally does the trick until Natalie wakes the next day with… but that would be telling.
Readers will love the whacky ways classmates try to rid Natalie of her pig, and the unexpected ending will delight. There will be animal noises in your house for days!
---