Meow Said the Cow
By Sarah Mazor,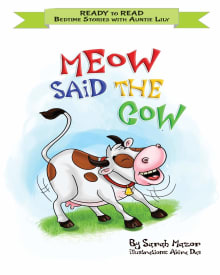 Recommended by Deanie Humphrys-Dunne
From Deanie's list on encouraging children to believe in themselves.
This book has adorable illustrations and wonderful, amusing rhymes that children and families will want to read again and again. It's sure to bring smiles to everyone. Not only is it fun, but also educational. At the end of the book, there are engaging riddles with answers listed under them, so children and their families can see how well they remember the information presented in the book. It's a must-have bedtime story for the little ones, in my opinion.
I adore this story. It first presents silly pictures, like a cow laying eggs, followed by an illustration of a hen and information on the hen and what she does. It's so funny as well as educational. In addition to the story, there are endearing riddles at the end I feel the book will appeal to toddlers and preschoolers and they will learn a great deal by reading this funny, fact-filled…
---