Bark, George
By Jules Feiffer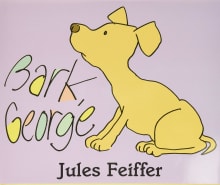 Why this book?
This book stars an adorable puppy named George. His mother has a simple request—she wants George to bark. But instead of arf, he says meow. The mother patiently explains, "No, George. Cats go meow. Dogs go arf." George tries again ("Quack!") and again ("Oink!") and again. ("Moo!") 
Kids find this hilarious. Sometimes I'll ask, "Do dogs go meow?" And they'll cheer, "No!" And then I'll say, "Who says meow?" Even the very youngest kids join in. Maybe they can't quite talk yet, but they can clap and cheer when George finally gets it right. 

This book has everything I love in a storytime book—short text, lots of humor, and fun surprises with each page turn.

---
When you buy a book we may earn a small commission.