Scaredy Squirrel
By Mélanie Watt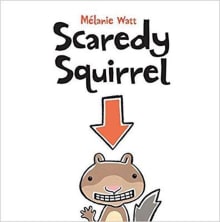 Why this book?
Scaredy Squirrel is, quite simply, one of the funniest books ever written about fear of the unknown. I especially love the way the pages are formatted, with lots of fun lists, charts, and diagrams. Scaredy Squirrel is scared of green Martians, killer bees, germs, poison ivy, tarantulas, and sharks. Because he is scared of so many things, he decides to stay in his tree doing the exact same things. Every. Single. Day. It's not until a killer bee shows up—unplanned!—that Scaredy Squirrel is forced to change his routine.
Whenever I get stuck in a rut, I remind myself that if Scaredy Squirrel can shake things up a bit, so can I.
---
When you buy a book we may earn a small commission.