Good Night, Sleep Tight
By Mem Fox, Judy Horacek (illustrator),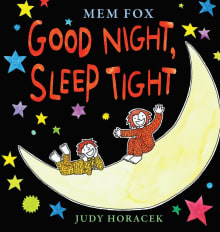 Recommended by Alys Mendus
From Alys's list on the best picture books to share with your 2.5 year old.
We adore this book and know it all off by heart! Our 2.5 year old can often be spotted sitting 'reading' this book to herself, reciting the poems! The simple repetitive story tells the tale of a babysitter (Skinny Doug – although for some reason he has always been known as Lanky Dave in our house!) singing nursery rhymes to Bonnie and Ben, the children he is looking after. Such a lovely book to share and we have even added in our own extra nursery rhymes for the picture of the moon at the end. Judy Horacek's bright and cheerful and inclusive artwork makes this a family classic.
---