Sofia Valdez, Future Prez
By Andrea Beaty, David Roberts (illustrator),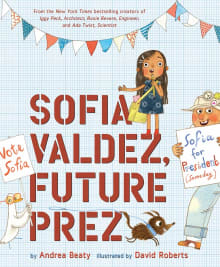 Recommended by Erin Dealey
From Erin's list on making Earth Day every day.
Sofia Valdez, Future Prez shows what an incredible difference "just a kid" can make, even when those in "power" don't take her seriously. Not only would the kids in Room 5 support Sofia's fabulous solution to the dangerous "Mount Trashmore" landfill, but I'm also certain they would learn a lot about the process of getting their own eco-conscious suggestions heard by the local government.
---