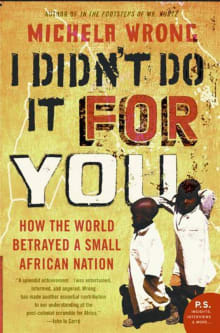 I Didn't Do It for You: How the World Betrayed a Small African Nation
By Michela Wrong
Why this book?
Wrong's account of Eritrea's bid for independence from Ethiopia highlights the conflict between the needs of the people and the wants of leaders. The title of her book is taken from what a soldier liberating Ethiopia from Italian rule told a local and sets the tone of the book. Time and again Wrong describes how leaders will starve their own people or bomb their own soldiers provide it help keep them in power.

From the list:
The best books about rulers behaving badly in Africa
When you buy a book we may earn a small commission.