Bunnybear
By Andrea J. Loney, Carmen Saldaña (illustrator),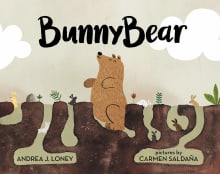 Recommended by Phaea Crede
From Phaea's list on animals trying on new identities.
Everyone looks at Bunnybear and only sees his outsides! As a person who struggled to feel good in my own skin and was often criticized by my peers as a child for being "weird," I was moved to see Bunnybear on his journey to be comfortable exactly the way he is—which is perfect.
---