The Wizard of Oz
By L. Frank Baum, Lizbeth Zwerger (illustrator),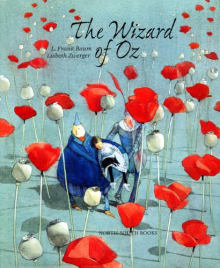 Recommended by Victor Acquista
From Victor's list on the hero's journey.
I love when an author weaves social issues into the plot and character. Baum wrote an extensive political allegory in the guise of children's literature. You have to know a little about the controversies of the time he wrote the story, especially backing paper currency with precious metals. Gold (yellow brick road), silver (Dorothy's slippers are silver in the book), and greenbacks (the Emerald City is a metaphor for Washington, D.C.) are all in the story and reflect Baum's views about the illusory value of paper money. More importantly, he is commentating upon power and wealth and oppression in America.
The narrative structure is a straightforward hero's (heroine's) journey–leave the current world (Kansas), travel on a dangerous adventure in a faraway place (Oz), and return home wiser and transformed. I first learned about this in an American history class. The movie adaptation of the book is great, but it doesn't…
---