Knee-Deep in Thunder
By Sheila Moon, Peter Parnall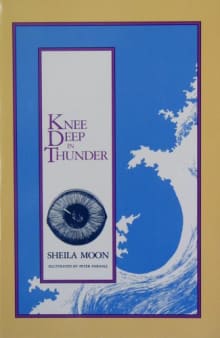 Why this book?
This is a book I reach for if I wake up in the middle of the night, feeling worried or anxious, and I just want to go to another world. The lead character is a young girl who is brave and kind (but not perfect!) who enters a magical world by accident. This world turns out to be made up of many of the elements of our own world that we may not notice—ants, beetles, spiders, and other creatures (not all insects, but these insects are wonderful). They become part of a band of adventurers who face an epic hero's journey with a strong message about how to stand by each other, without being corny or predictable.
This is an older book, published in 1969 by a Native American author who draws on Navajo mythology. I recently re-read it myself, and it was one of those books that I couldn't wait to have the chance to read when I went to bed—it will take you to a familiar place made strange, with beautiful illustrations. It is a timeless book.
---
When you buy a book we may earn a small commission.