The Bat-Poet
By Randall Jarrell, Maurice Sendak (illustrator),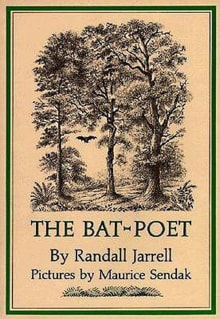 Book description
A combination of prose and verse for children, complemented by illustrations.
Why read it?
2 authors picked The Bat-Poet as one of their favorite books. Why do they recommend it?
Rebecca Chace
I love this book because A) the illustrations by Maurice Sendak are beautiful, and B) It's a story about a bat who stays up during the day, when the other bats are sleeping, and writes poems about what he sees. It's a book for anyone who has ever felt misunderstood, or didn't fit in, and created art out of that experience. I think all writers feel this way, and probably most people at some point no matter what they do or create in the world. It's also a book about friendship, with a bat, a chipmunk, and a mockingbird, and…
Margriet Ruurs
This little gem was published many years ago but is still a beautiful, perfect story. It is an analogy for writers. Bat is impressed by the beautiful tunes of the mockingbird. He wishes that he, too, could compose such beautiful ballads. He learns to observe, to listen, to make notes, and to use his observations in the poems he composes. Haughty mockingbird tells him that he doesn't know the rules of poetry but despite this, Bat makes the most beautiful poems and he is pleased to find a listener. Just like real writers.