Easy Riders Raging Bulls
By Peter Biskind,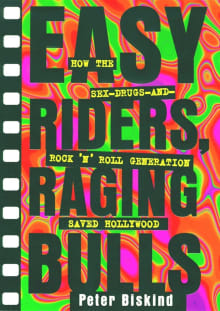 Recommended by David Browne
From David's list on why the maligned Seventies were pretty awesome.
Just before and during the same period that SNL was raging on the East Coast, rising directors like Martin Scorsese, Francis Ford Coppola, and George Lucas were rewriting the rules of Hollywood. Biskind's history of the New Hollywood of the Seventies, which starts with 1969's biker classic Easy Rider, is jammed with juicy stories of sex, drugs, and film canisters. But it also makes you appreciate anew the way movies like  Chinatown, Nashville, Taxi Driver, and Star Wars made going to the local movie theater a newly thrilling and surprising experience. 
---