Tiger vs. Nightmare
By Emily Tetri,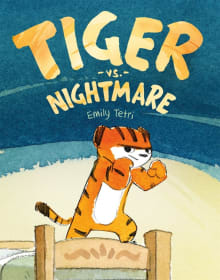 Why this book?
This book is such a clever way to approach a nightmare discussion with older kids. I first picked it up because I love Emily's art; her watercolors are so expressive and rich. 
It's easy to fall in love with the simplicity of the little futuristic world that Tiger lives in. She has a monster living under her bed that actually helps fight off nightmares, how lucky! 

The way Emily weaves the story, you can clearly see Tiger's struggles with the scary thoughts on her mind. Emily highlights the importance of talking about it and working together to conquer those fears. It's a very powerful experience!

If a kid can relate to Tiger's character, I would imagine they would feel empowered to conquer their own scary thoughts, too. 

---