Age of Reptiles
By Ricardo Delgado,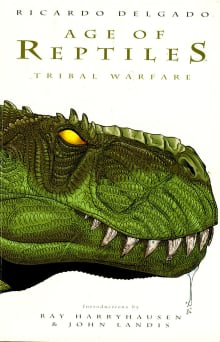 Recommended by Tim Probert
From Tim's list on vivid and compelling worlds to get lost in.
This one is a completely wordless story that transports you back to the time when dinosaurs roamed the planet. It follows a pack of deinonychus who steal the eggs of a tyrannosaurus and a hunt ensues. Through lively drawings and colors that pop, you get to know the personalities of all these different dinosaurs and feel the difficult and often vicious life back then. It's out of print, but if you can find a copy it's worth it. There are a few more books in this series that are also great, but this was my first and I cherish my copy. 
---