The Wee Free Men
By Terry Pratchett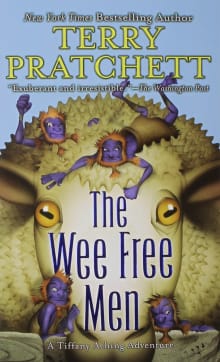 Why this book?
I love all of Pratchett's books. I love this one in particular. The storyline is insanely intriguing and more than tickles the imagination. I'm not sure what "more than tickling" is but I do know what it feels like!  The title characters – the wee free men – are, as far as I can tell, unrivalled in literature. Tiny, blue, drunken, thieving fairies (in the most diabolical sense of the word) who speak mainly in Scots swear words. 
Terry Pratchett is the author who has most influenced my own writing. He has taught me to stretch my imagination to the borderlands of absurdity and yet to stay true to human nature, with its endearing foibles. Crivins! The Truth is bleedin' hilarious, do ye ken?

---
When you buy a book we may earn a small commission.