The Fourteenth Goldfish
By Jennifer L. Holm,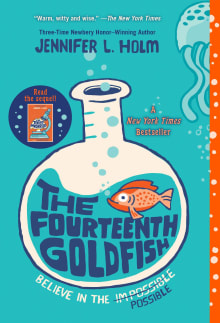 Why this book?
Books that use humor to explore serious issues are delightful, and this one tops my list. Eleven-year-old Ellie isn't the biggest fan of change. Then one day her mom is called to pick up Ellie's grandfather from the police station and comes home with...a thirteen-year-old boy?! Ellie's grandfather has managed to reverse the aging process, and now he's enrolled in her middle school. Ellie and her grandfather form a strong bond over their shared interest in science. She even helps him break into his old lab so he can retrieve the specimen he needs to publish his findings. But Ellie becomes uneasy with the possible applications of her grandfather's discovery. Maybe change isn't always the worst thing after all? This light-hearted book will make you laugh—and think. 

---