S Is for Story
By Esther Hershenhorn, Zachary Pullen (illustrator),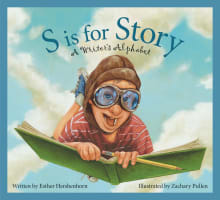 Recommended by Carmen Oliver
From Carmen's list on picture books about bears, buddies, and writing.
Like my book, this book is filled with tips and terms from A to Z to connect readers to the writerly process and life. There are inspiring quotes sprinkled throughout and the illustrations by Pullen are bright and vivid. It's the perfect backdrop to the beautiful poetry and prose written by author Hershenhorn. 
H is for Hero and Heroine, 
   their journey grand tales to be told,
      of beaten foes, 
         and bested woes,
            of triumps, alas, to behold.
I return to this book time and time again for inspiration and to spark my imagination.
---