Montaillou: The Promised Land of Error
By Emmanuel Le Roy Ladurie, Barbara Bray (translator),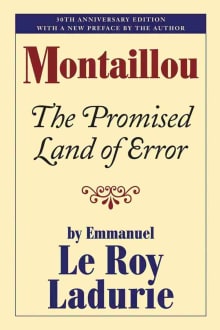 Why this book?
Montaillou, which was published while I was in graduate school, provided a new, highly personalized way to study medieval social history: not with quantitative data but through a nuanced examination of court records that offer a mirror into the everyday lives of obscure villagers. When I first read the "Miracles of Saint Louis" I realized this source for late thirteenth century Paris was nearly as rich as Le Roy Ladurie's inquisitorial record concerning Montaillou. Had Montaillou not been written, I might not have seen the potential in the "Miracles of Saint Louis," and thus I might not have written Surviving Poverty in Medieval Paris.
---