Finding Winnie: The True Story of the World's Most Famous Bear
By Lindsay Mattick, Sophie Blackall (illustrator),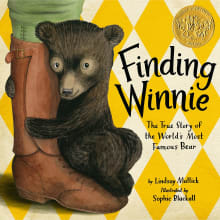 Why this book?
This story is based upon a man, Harry Colebourn, who lived in my hometown of Winnipeg, Canada who rescued a baby bear and named her Winnie after Winnipeg. Funny story, I was actually researching Harry Colebourn and the real bear that inspired the character Winnie-the-Pooh when Colebourn's great-granddaughter Lindsey Mattick came out with her book Finding Winnie. After reading Lindsay's story, I knew that it was remarkable and anything I wrote would pale in comparison. So if you like friendship stories, like me, and want to understand the history of how the fictional character Winnie-the-Pooh was inspired by the real bear Winnie—then this book is for you! It's an inspirational journey from the prairies of Canada to the London Zoo in England.

---