You Will Be My Friend!
By Peter Brown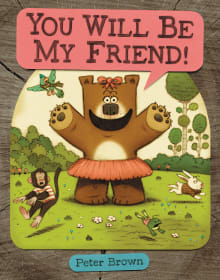 Why this book?
Lucy Bear is determined to make a friend, but it turns out to be a harder task than she anticipated. Her efforts startle, bother, annoy, and anger the other forest animals. She's ready to give up but in the end, she finds a perfect friend—perfect for her, that is, and isn't that what really matters? I adore Peter Brown's colorful, jocular illustrations and the way the answer to Lucy's desire is presented not in the text, but in the art. For a bonus friendship lesson, check out Brown's bio on the dust jacket.
---
When you buy a book we may earn a small commission.