I Can Only Draw Worms
By Will Mabbitt,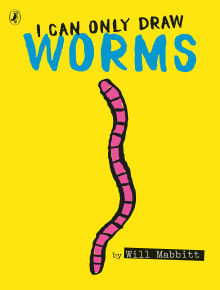 Recommended by Kyle Scheele
From Kyle's list on for goofy kids.
This book is such a fun example of taking something that could be seen as a limitation (for instance, the fact that you can only draw worms) and turning it into something more. The book is narrated by the author/illustrator, who explains that he can only draw worms. 
He then introduces a cast of worms and tells us about their various adventures. But whenever he describes something non-worm-like (Worm Six is riding on a flying unicorn!) he quickly reminds us that he can't draw those things, because he can only draw worms. Never fails to get my kids laughing!

---