Steelheart
By Brandon Sanderson,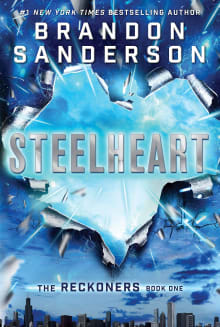 Recommended by James Dwyer
From James' list on fantasy with dark humour and light entertainment.
What's that you say, Steelheart isn't urban fantasy? Even when it's written by the emperor of fantasy himself, Mr. Brandon "I've written over fifty bestselling novels in twenty years" Sanderson. Well to that I say: Sparks! You're like a rabbit doing maths equations instead of looking for foxes. And if you love ridiculous metaphors like that, then Steelheart is like a banana farm for guns. What's not to love about this book? It's a world filled with superpowered humans and every single one of them becomes an Epic villain. If that's not dark enough humour for you, then David's attempts at analogies will keep you entertained for days. I mean, who hasn't looked at motorcycles racing towards you and thought "They looked dangerous, like alligators. Really fast alligators wearing black. Ninja alligators!" 
I absolutely love this book and all of the Reckoners books that follow.
---