Days of Darkness
By John Ed Pearce,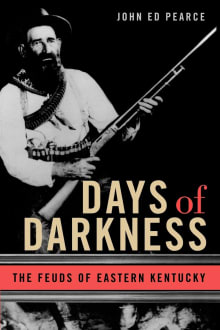 Recommended by Lisa Alther
From Lisa's list on the Hatfield–McCoy feud.
This book by a Kentucky journalist, based on the sparse court records and on interviews with descendants of the feudists, helped me understand that the Hatfield-McCoy feud was not an isolated occurrence. In addition to the Hatfield-McCoy feud, it describes five other feuds being conducted in Kentucky at the same time. There appear to be similar patterns governing the combustion and ferocity of all these feuds, having to do with a struggle for control over the shifting social, economic, and political hierarchies following the upheavals of the Civil War and the invasions launched by lumber and coal companies.
---