The Story Blanket
By Ferida Wolff, Harriet May Savitz, Elena Odriozola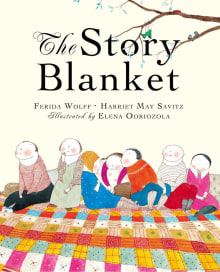 Recommended by Tatyana Feeney
From Tatyana's list on for those who love yarn and knitting.
The Story Blanket is about what you might do if there wasn't enough yarn. 
Babba Zarrah loves to tell stories to the village children who all sit on her story blanket to listen. As the winter goes on and a need for warm clothes becomes greater, Babba Zarrah's blanket begins to get smaller.
The solution to the disappearing story blanket completes the cycle of generosity within the village.
The story, a modern folk tale, is simple and beautiful. The illustrations, by Elena Odriozola, are gorgeous and original and bring an added imaginative dimension to the book.
---