The Runaway Wok: A Chinese New Year Tale
By Ying Chang Compestine, Sebastia Serra (illustrator),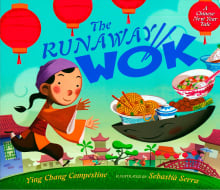 Why this book?
This is a lovely story about a boy called Ming whose family is poor and is struggling to get a proper Chinese New Year dinner on the table. When Ming is sent out to the market to get some rice, he comes home with a magic wok instead, which steals food from a wealthy, but stingy family. Think Robin Hood in the form of a Chinese wok with a mind of its own! As far as I know, this is not a traditional Chinese story, but children (6-8 years) will definitely enjoy reading this book with its cute and colorful illustrations. They'll even be able to sing along with the wok!

---