Dragon Keeper
By Robin Hobb,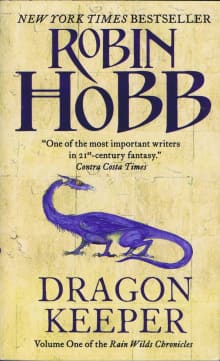 Recommended by A.J. Norfield
From A.J.'s list on fantasy with dragon-human bonds in it.
In Dragon Keeper, Robin Hobb expands on her Liveship Traders universe. The (deformed) dragons that take the spotlight are less friendly and their uneasy bonds with their caretakers give a whole different experience for the readers. It is a less heroic tale to read and more of a struggle, but one that is beautifully drawn out by Hobb's amazing skill as a writer. It's a book as much about self-discovery, as it is about building trust. In my eyes, the slow-burn storyline remained interesting because of the strong cast of characters and my curiosity about how the dragons would evolve, both emotionally and physically. You shouldn't expect much action, but it provides a marvelous read nonetheless.
---