Maze
By Christopher Manson,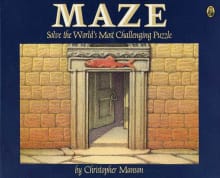 Recommended by M.P. Kozlowsky
From M.P.'s list on the best fantasy books you've never heard of.
With the subtitle Solve The World's Most Challenging Puzzle, how could one resist a dive into this fantastic world? Each page number represents a different room in a strange mansion with clues and riddles littered throughout. At less than 100 pages, one might think it's quite simple, when in fact there are people still lost within the maze, unable to escape - very few have managed to find their way to the center and out again without looking up the correct path. Good fantasy is always immersive, but rarely like this.
---