The Snow Leopard
By Peter Matthiessen,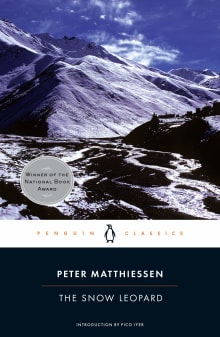 Recommended by Bob Brush
From Bob's list on to make you pack your suitcase for far away places.
How far must you travel to discover your true inner self? Pretty far, for Peter Matthiessen—all the way to the slopes of Annapurna in Nepal, in search of blue sheep, the Lama of Crystal Mountain, the elusive snow leopard, and most of all, spiritual enlightenment—very big in the '70s (trust me, I was there). It's a journal, a travelogue, a nature study, a daredevil escapade in a setting of such unworldly grandeur that makes you long to be there, at the top of the world, where the clouds dance and the mountains sing. Lots of self-reflection, but absolutely worth signing on for the trek.

---