Western Women and Imperialism
By Nupur Chaudhuri (editor), Margaret Strobel (editor),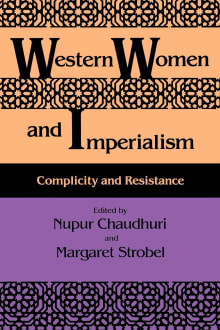 Recommended by Tracey Jean Boisseau
From Tracey's list on the history of feminism and imperialism.
A collection of very short but incredibly interesting and illuminating essays, this book inaugurated the field of study we might call "feminism and empire." Strobel and Chaudhuri gathered up the most important histories written to that date that explained how nineteenth and twentieth-century feminism emerged from colonialist contexts all over the world. Asking the question "what difference does gender make?" each author teases out the importance of gender for colonial travel and politics in Asia, Africa, and the Americas. Reading this book made me want to contribute to that kind of historical understanding of gender, modeling for me what an "intersectional feminist" method of historical investigation might look like.
---