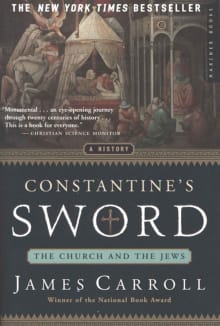 Constantine's Sword: The Church and the Jews, A History
By James Christopher Carroll
Why this book?
In Constantine's Sword: The Church and the Jews, James Carroll, a former Catholic priest turned journalist and novelist, delivers a powerful indictment of the politicized religion that from the time of Constantine the Great persecuted heretics, non-Romans, and, most of all, Jews. Carroll's historical account is colorful and accurate, but what this book mostly does is exorcise a demon that plagued the author personally for years: his shared responsibility as a Catholic believer and official for an anti-Semitic tradition that helped generate the Holocaust. This is a stirring job of writing that looks forward to Carroll's later work as…
From the list:
The best books about the divinity of Jesus and theological battles among early Christians
When you buy a book we may earn a small commission.