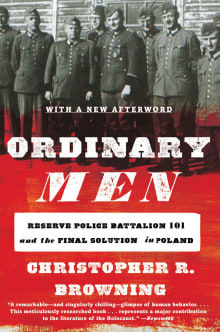 Ordinary Men: Reserve Police Battalion 101 and the Final Solution in Poland
By Christopher Browning
Why this book?
In one of the most famous and most important books about the Holocaust, Browning shows that many of the soldiers who perpetrated the Holocaust were not sadists or vicious antisemites by nature. They were ordinary men who were affected by the circumstances of the brutal war, incessant Nazi propaganda about Jews, feelings of group solidarity during wartime, and the power of orders from a higher authority. Once middle-aged policemen in northern Germany, many became hardened killers in Poland.

From the list:
The best books on Nazi Germany and the Holocaust
When you buy a book we may earn a small commission.