A People Betrayed
By Alfred Doblin, John E. Woods (translator),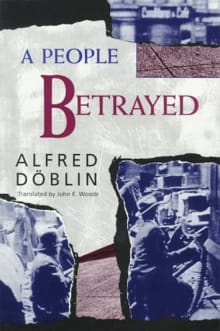 Recommended by Terrence Petty
From Terrence's list on for understanding the Weimar Republic.
Alfred Döblin, one of the most consequential German authors of all time, is best known for his gritty, modernist Weimar-era novel Berlin Alexanderplatz. Often overlooked are two works of historical fiction by Döblin, A People Betrayed, and Karl and Rosa. Set in Berlin during the November 1918 proletarian revolution, these two books are epic in scope, employing both real and fictional characters to tell of the violent beginnings of the Weimar era, a foreshadowing of the political and social fissures that would plague Germany's first postwar democracy and ultimately set the stage for Hitler's rise to power.

---