Who Killed Janet Smith?
By Ed Starkins,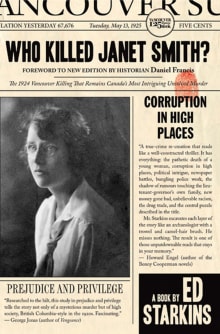 Recommended by Daniel Francis
From Daniel's list on Vancouver history.
Janet Smith was a young Scottish housemaid who was murdered in the home of her well-to-do employer in 1924. Never solved, the murder is one of the most celebrated crimes in Vancouver history, featuring political corruption, racial animosity, sex, drugs, and jazz. The book is a wonderful evocation of life in the city in the 1920s when it was emerging from world war and recession and finding its feet as a cosmopolitan community with pretensions to economic leadership. This is one of the first books I ever read about Vancouver history and it remains a favourite.
---