Probability
By Michael A. Bean,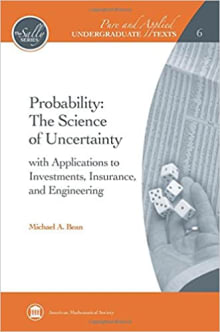 Recommended by Chris Conlan
From Chris's list on the best mathematics books for quant finance.
Everyone knows what probability is, and we all understand how a coin flip works, but not everyone can explain the optimal betting strategies for a roulette table. We don't study probability to understand the likelihood of events. We study probability to understand the expected outcomes of business processes that depend on those events.
In other words, this book won't just teach you about probabilities, it will teach you about business strategies associated with those probabilities. It will help you answer a question like: How do I maximize the profit on this life insurance policy, given this set of survival probabilities? It isn't just a likelihood question, it is a business question. I highly recommend that anyone studying probability does so through an actuarial lens.

---